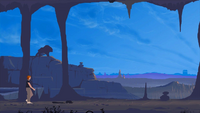 Another World, developed by Eric Chahi, was known as Out of this World in the United States, and Outer World in Japan.
It was originally released in 1991, on several computers and consoles of the time.
Freeware Dreamcast version
Edit
MetaFox ported the interpreter for Another World by cyx, RAW, to the Dreamcast on May 11, 2004. Eric Chahi graciously allowed for the game to be included with the interpreter, for the Dreamcast, for free. GPF released this freeware version of Another World on December 30, 2005.
High-definition Dreamcast version
Edit
JoshProd and RushOnGame published a commercial high-definition version for Dreamcast on July 13, 2018.