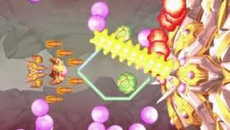 DUX is a shooting game by Hucast. There was a 500-print limited edition available with a game soundtrack on a separate disk. The original version of the game was published by redspotgames.
In May 2012, a kickstarter project began for a sequel to DUX titled Redux: Dark Matters, which was released on PSN, XBLA, Steam and iOS, as well as the Dreamcast. The latter was a limited edition limited to 1,000 copies. The Dreamcast version of Redux also facilitated the release of an upgraded version of DUX titled DUX 1.5, which includes additional improvements over the original release.  DUX 1.5 was self published by Hucast on March 11, 2014. DUX 1.5 was re-released in a PAL case format by JoshProd on May 18, 2017.
Ad blocker interference detected!
Wikia is a free-to-use site that makes money from advertising. We have a modified experience for viewers using ad blockers

Wikia is not accessible if you've made further modifications. Remove the custom ad blocker rule(s) and the page will load as expected.